Tree HQ has been around since late 2013. And now a newer improved version, using the latest coding to make sure its up to date and user friendly, has just been released!
As indicated from the name, this is business software for Tree Companies. It allows the user to efficiently run their business with the minimum of fuss.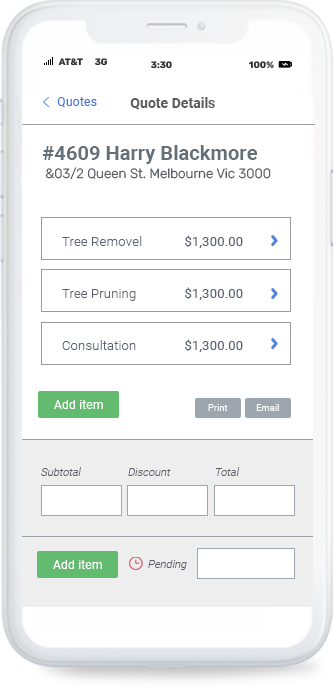 FEATURES
One key feature of the software is instant emailing of your quote to your client whilst you are still face to face. The ability to be able to do this means decisions can be made faster allowing for an acceptance right away. In a busy world, people like to wait less and less and you are instantly ahead of your competition.
Once the quote or bid is given and if the client says OK, you can book the job in using the calendar and giving the client the knowledge of when you can perform the works.
Another outstanding feature is the ability to video or photograph the required works. With video, you are able to capture the clients words describing exactly what they want. There is no confusion and no argument. Also with the vision and spoken word, your staff have clear instructions as to what is required.
The video/photo feature can be used by crews on arrival at site to check for hazards & pre-existing damage and also for completion of works allowing the business owner to see that the job has been carried out to the standard the company expects.
Other features include links to maps to get you to the works site, risk assessments built in to satisfy work cover, accounting links Xero and MYOB Essentials, marketing features and data base collection. All important key features that is needed in todays business world.
To stay in the game you need to be efficient well presented and use your time efficiently and this work tool system is a key to ongoing success in your business. A great communication tool for staff and your clients.
Why not try the 30-day free trial to show you the advantages that will ultimately allow your to grow your business in a managed sustainable way.